Coming to Berlin book presentation
Coming to Berlin book presentation. Conversation with the autor, Paul Hanford, conducted by Jonny Tiernan (LOLA magazine) and Dj Fuckoff.
Thursday 13.10.22, 7pm
Echo Bücher c/o Hard Wax @KLAK Verlag (one floor below Hard Wax).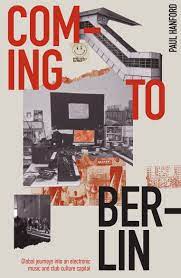 "Coming To Berlin breaks the tradition of Berlin's perception as techno ground zero and shows the true diversity and richness that make up the city. Connects musical and cultural dots over a 120 year timeline, including the Weimar era, krautrock, the 80s art scene that involved Einsturzende Neubauten and Nick Cave, the East Berlin punk movement, through to Berlin's role as a techno capital with the Love Parade, Tresor and Berghain, and into the post-techno, post-genre, post-gender future that takes in the refugee crisis, gentrification, ambience and lockdown.
Written by a former Londoner who made Berlin his home, the book captures nuances and details of living in Berlin that will be immediately relateble to fellow Berliners yet at the same time captures the city's creative, free-living essence to anyone with a curiosity for Berlin and a love of electronic music.
Coming To Berlin reflects, through the lives and music of migrants, settlers and newcomers, how a constantly in flux city with a tumultuous history has evolved into the de facto cultural capital of Europe. And how at the heart of this, electronic music and club culture play a unique role. A plea for multiculturalism and a love letter to the borderless potential of music, the book breaks the tradition of Berlin's perception as techno ground zero and shows the true diversity and richness that make up this city. "